'Tis the Season for Corporate Gift-Giving
With U.S. small businesses feeling the pinch of the erratic economy, many are opting for creative yet economical gifts for their clients this holiday season. One such company is JMJ Phillip, a leading executive search firm, who is planning to send a unique gift to their clients – candy specifically designed to look like coal – to help leave a memorable impression on them.
Detroit, MI (PRWEB) November 23, 2009 — Corporate gift-giving is an excellent way to spread holiday cheer as well as strengthen ties with clients. Since the current economic downturn will affect the holiday gift-giving habits of America's 29.6 million small businesses*, you should consider trimming this year's holiday season budget by sending unique, personalized corporate gifts.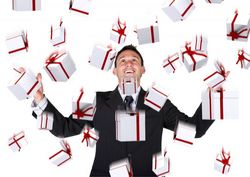 *Fall* for Unique Corporate Gift Ideas this Holiday Season
For those companies looking for sound investments in their client relations, some sure-fire gift pleasers include custom cards, calendars, photo frames and sweets. Once the gift type is determined, it is very important to properly use your company's name, corporate theme and/or color scheme. A well designed and thought out gift will not only enhance the overall image of your organization, it will also further instill feelings of happiness, humor and joy in your clients toward your company.
One small business, JMJ Phillip, a leading executive search firm that focuses on recruiting top executives from the manufacturing and supply chain community, is planning on distributing cost-effective, promotional gift items this holiday season. Since 2009 was a tough year for many U.S. staffing and executive search firms, JMJ Phillip will send personalized gifts to one of the fastest growing industrial sectors – oil and gas companies – to further build rapport within this segment.
"To leave a fun and lighthearted impression, our firm will send edible coal candy treats to the top 25 power companies across the nation," said James Thompson, Vice President of Business Development for JMJ Phillip. "We decided on edible coal treats since this fossil fuel is commonly used in producing energy in our country, and it is our hope to further promote our vast contacts – individuals who are well versed in both renewable and non-renewable energy sources – to help fill positions within the oil and gas sector."
JMJ Phillip brings up another interesting notion of how important it is for small businesses to continually build relationships with clients – both existing and potential ones – during these tough economic times. By sending promotional gifts, a company will not only spread some holiday cheer among clients and prospects, but it will also help advertise its name, promote its services and open the door to new business opportunities.
About JMJ Phillip:
Headquartered in Rochester, MI, JMJ Phillip is one of the nation's leading recruiting and research firms specializing in the placement of manufacturing, supply chain and information technology professionals. For over 10 years, JMJ Phillip has helped organizations – from small business to Fortune 500 companies – grow and prosper by identifying and helping them retain exceptional leadership talent. To learn more about the company and its services, please visit www.jmj.reora.net.
Key:
*2008 Estimate – The Office of Advocacy of the U.S. Small Business Administration (SBA).
Media Contact:
CPR Media Services
1-877-602-9880 Ext. 101
contactus(at)cprmediaservices.com
Press Release –