Executive Search Practices
Supply Chain Executive Search Firm
Here is your opportunity to partner with one of the best supply chain recruiters in the industry.
In the 1990's we said we would establish a name as we go, and here we are in 2021, The JMJ Phillip Group has become one of the leading Supply Chain Executive Search Firms in North America. Deep, Detroit manufacturing and global supply chain roots would only guarantee that we could walk the walk when it came to supply chain executive search.
Supply Chain Recruiters That Speak Your Language
When Supply Chain Executive Recruiters talk Supply Chain, they use terms such as Logistics and Procurement, an integral part of supply indeed.
But we often think about the Director of Supply Chain sending supplier quality engineers out for an audit, packaging and 2D labeling issues based on ridiculous customer EDI data. Or even worse, how to manage the WIP filling up the racks in your distribution center because your ERP system botched production schedules. For those that ever went through a "go-live" that last sentence brought back some memories we are sure, but this is the level that we understand your world.
"This is the expertise you expect from a top supply chain recruiter"
You desire a firm that understands when you say supply chain and production scheduling within SAP MM that you want someone with a materials background. You cannot afford to have a generalist supply chain search firm sending you resumes with the buzzword "supply chain."
Anyone can google supply chain terms and end up on The HBR Supply Chain page to grab some quick terms to regurgitate about supply chain jobs.  But most won't have a Managing Director with a supply chain degree from Michigan State University, the #1 Supply Chain College in the world and a university we actively recruit from.
With those minor problems aside, we spend an equal amount of time on Retained Supply Chain Executive Searches. When our clients call and say "we have a $1MM inventory shrink issue, please find us the top Supply Chain Vice President in the country," not only did we say ok, we were able to successfully complete the search by placing the VP from their largest competitor ($11B Public Company). This the the type of work your paying a supply chain recruiter for.
But maybe you don't have a shrink issue, maybe you are bringing all supply chain management operations back in house after having consultant and 3PL agreements. Who are you going to consider a trusted advisor to complete this mass hire project across dozens of states?
What you can expect when working with our Supply Chain Executive Search Firm:
Leading National Supply Chain Search Consultants Team
Responsible for high profile Discreet Supply Chain placements
Recruiters work with specialists in relocating talent around the world
Supply Chain Recruiters with Supply Chain backgrounds and education
Deep understanding of ERP \ MRP Supply Chain Requirements
Supply Chain Recruiting team is comprised of great negotiators and researchers
20+ year history of identifying top 5% Supply Chain talent
Has Work From Home Changed The Hiring Game In 2021?
Oh the game has changed, and while it may return to some sense of normal post-covid, expect to have the WFM conversation with candidates here on out. Which for you, is difficult as you don't want to be viewed as the company that is "forcing" everyone to work in the office, so let our SCM recruiters do that for you.
Truth is, while some supply chain jobs can be done from home, such as analytical work, many supply chain roles require boots on the ground.  From the hub and spoke warehouse and distribution centers, to physical inventory spot checks, some supply positions just can't be done from home.
Why Hire Our Supply Chain Headhunters?
Believe it or not, in the past 15 years according to Google Trends, the interest in supply chain jobs has increased by 300% in the United States.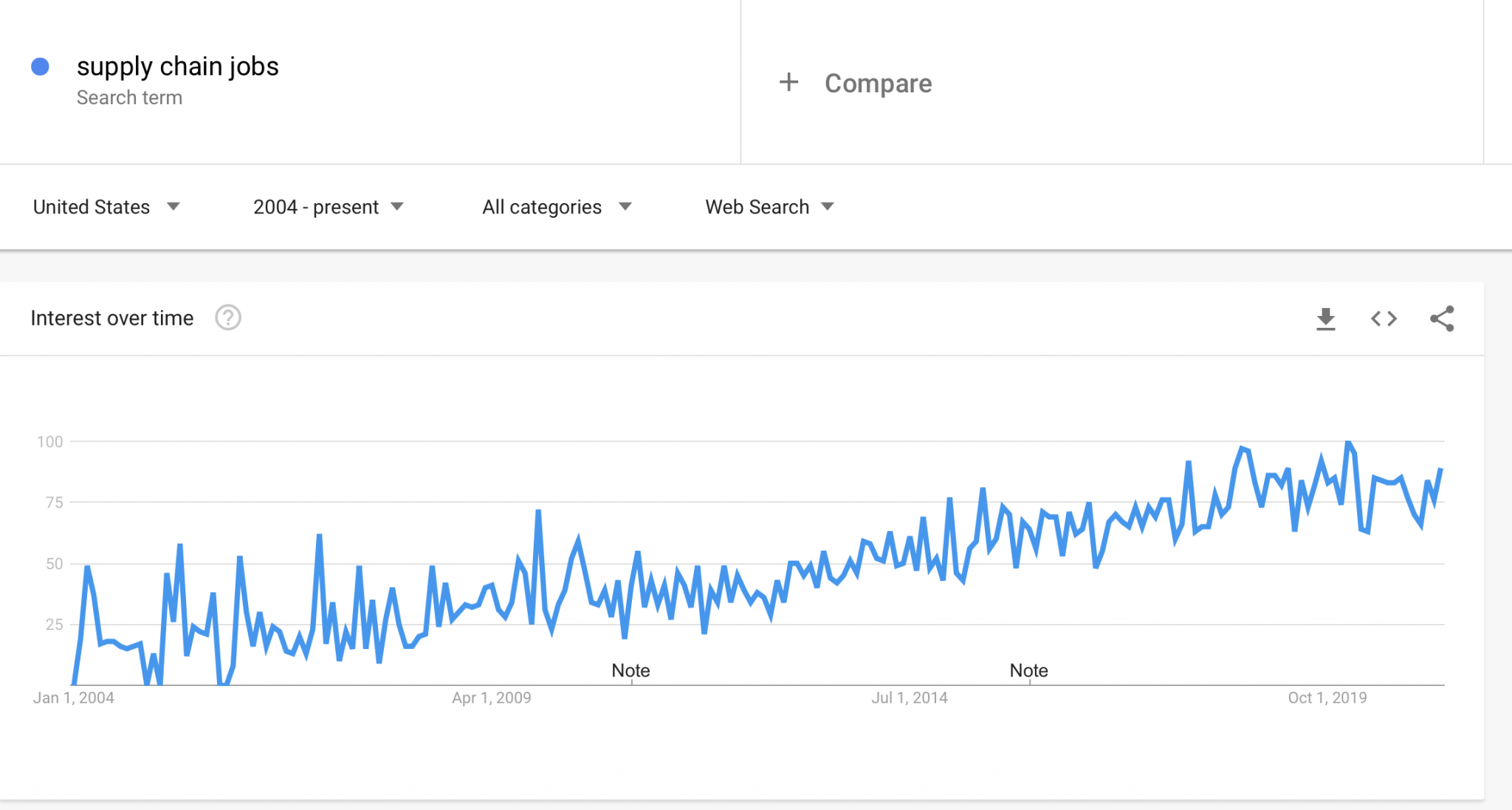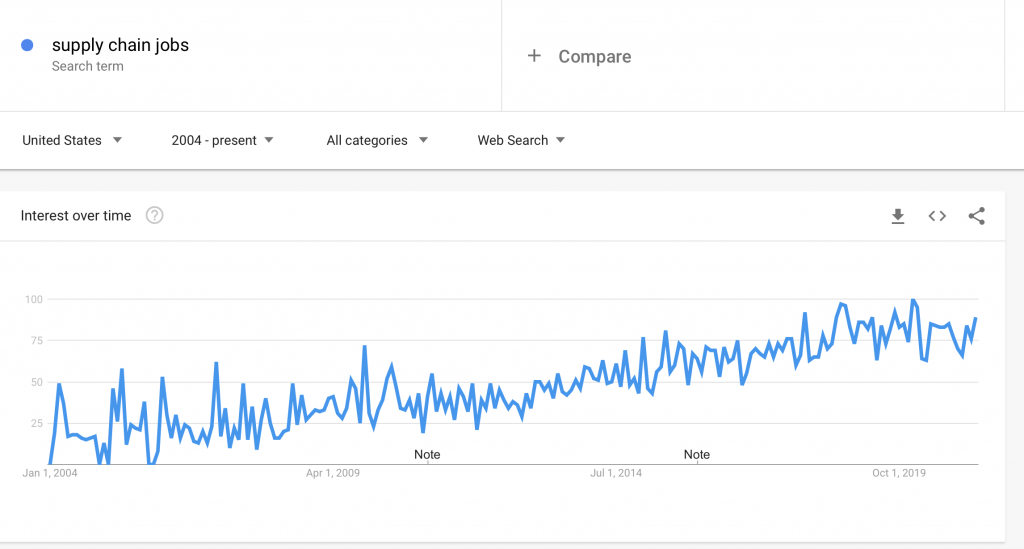 With globalization, the manufacturing and movement of goods around the world has made the supply chain sector evolve rapidly. We didn't have enough supply talent coming out of college 20 years ago and still today we can't keep up with the demand.
At the pace business moves today and knowing the demand for top talent far exceeds the supply, what can you do when it comes to hiring the best candidates when talent liquidity isn't in your favor?
You hire one of the best supply chain recruiters and get out of our way so we can do what we do what we do best.
Call 877-500-7762 to Retain our Supply Chain Executive Search Firm