2020 is here. The 2019 year of hiring has come to an end, and recruiters and hiring managers are jumping headfirst in the 2020 job market. After a tough climate for hiring in 2019 and just 6 days into the new year, what trends can recruiting firms expect to see over the course of 2020?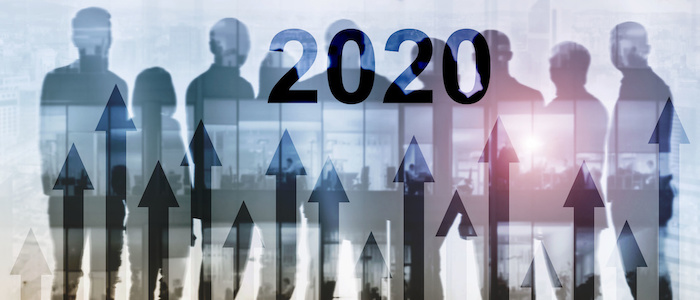 Before we get into that, let's take a look back and rewind to 2018 with some stats.
In 2018, on average, 12% of candidates who applied for jobs were asked for an interview. Out of those interviewed, 28% received a job offer. (Jobvite 2019 Recruiting Benchmark Report)
Recruiters estimate they will pay entry-level employees an average of $56,532 in 2019 and 2020—a jump of over $10,000 compared to 2018
The average time to fill a position was 40 days in 2018 (Jobvite)
91% of tech companies planned to invest in sourcing tools and technology in 2018 (Entelo 2018 Recruiting Trends Report)
Channels such as Facebook and Instagram, are gaining popularity in recruitment. Especially Instagram: 35% of millennial recruiters and 63% of recruiters working in the tech industry used Instagram to source candidates in 2018—double the numbers from the previous year (Jobvite)
Now, before we get into 2020, let's take a look at this article from Jobbatical on current 2019 hiring statistics, job market trends and data.
A total of 31% of recruiters list the quality of the hire as the measurement of their success, while 23% of recruiters consider the retention rate as their primary measurement. One- to three business days are dedicated to training prospective hires by 39% of recruiters in order to improve the retention rate.
It takes an average of 27 working days to acquire a new hire.
Of recruiters, 45% are having difficulty filling positions due to a shortage of talent.
At least 84% of organizations are currently using social media for recruitment and 9% of those who don't use it yet are planning to.
Requirements for strong conversational skills and enthusiasm have declined by more than 20% among recruiters.
A four-year college degree makes an entry-level candidate competitive in the job market according to 87% of recruiters.
Video technology is being used by 60% of hiring managers and recruiters. A survey of 506 companies showed 47% use video interviewing to shorten the hiring timeframe, and 22% would consider it for interviewing candidates that aren't local.
Through recruiter negotiations, 68% of businesses "have increased the average salary offer for candidates in the last year."
75% of recruiters have experienced a candidate "change their mind." In 53% of the cases, it was because they received a better offer.
Reportedly, 77% of recruiters go back and hire someone who didn't appear to be a fit initially.
Based on data gathered from JMJ, here are some key things we've seen over the course of the year, and how we can see them trending into the new year.
What we saw in 2019: An increased desire by hiring committees to see a diversity of candidates. Even if it meant delaying the extension of an offer to a stellar candidate who completed the interview process already and performed well. There was also a dynamic of not wanting to miss out on someone that didn't surface in the initial search efforts.
2020 Trend: Clients will continue to wait to ensure that they have the perfect person for the role.
What we saw in 2019: More and more emphasis was placed on "culture fit" and personality traits that aligned well with the company's current executive staff. These organizations wanted to hire someone that would play nicely with the rest of the team. Furthermore, they wanted to avoid hiring someone that would rock the boat too much. This played into turnover and retention improvement plans as well.
2020 Trend: Companies will continue to put a heavy emphasis on hiring a candidate with the personality traits to fit into their culture. In many cases, hiring an aggressive change agent can lead to a ruffled staff who decide to look for work elsewhere.
What we saw in 2019: We saw a slowdown of hiring around holidays such as the 4th of July and Christmas. With the economy being stronger, it seemed like more people were traveling for vacations, which can ultimately slow the interview process down a bit.
2020 Trend: Candidates will continue traveling around the holiday seasons, slowing down the interview and hiring process. Recruiters and hiring managers will need to adjust accordingly.
What we saw: We worked more on executive level (VP and above) searches, as we plan to continue doing this year. We saw that companies were extending the interview process (vetting process) with candidates. 4-9 interviews were typically conducted before an offer would go out, getting multiple people involved in the hiring process. They weren't only involving the leadership team the individual will be reporting to, but also the future direct reports of the candidate to get full buy-in. This made it a bit more challenging to place someone as one bad review throughout the process from one out of the many interviewers could remove someone from the process. Like our Managing Director Dennis Theodorou had mentioned before, this was not favorable to get a placement – too many cooks in the kitchen.
2020 Trend: Interview processes will shorten over the course of 2020, as companies will look to avoid getting a bad review on sites such as Glassdoor.
What we saw: Mediums like Skype and Teams were still popular, but also the prerecorded video interviews that allowed candidates to complete them on their own schedule and submit them when finished had been used by a few companies with mixed reviews from candidates. Some really liked the flexibility, others felt it was awkward.
2020 Trend: Jobs will conduct interview processes in this manner, and video interviewing will continue to grow in popularity.
What we saw: Hiring with an emphasis on succession planning. More than ever, clients wanted to hire someone who could be successful in the positions we were recruiting for as well as the position above it. In many cases, this lead to identifying someone who was overqualified for the job we were recruiting for but was also interested in the long-term opportunity to grow with an exciting company.
2020 Trend: Companies will look to develop new leaders when hiring by implementing more leadership training programs
How do you have to plan to be successful in 2020?
In order to be successful in the 2020 job market, there will have to be a strong emphasis on continuing current practices while also finding new ways to attract the top talent in the market. The company that is open-minded in its hiring approach will be the company that will come out on top in acquiring top talent in the 2020 job market. Even in a time where there's an evident shortage of talent, tackling the market with a hawk's eye and changing your recruitment process by taking a more flexible approach to recruiting to cater to the candidate will have a positive impact on your recruitment team's efforts.